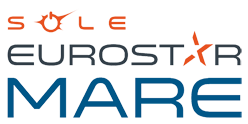 Eurostar Mare - Solar Water Heaters Low Height
Eurostar Mare Solar Water Heaters Low Height - Thermosyphon Systems by SOLE solar appliances manufacturer
EUROSTAR MARE Solar Water Heater is designed and manufactured with the main goal of meeting the requirements of facilities in coastal and tourist areas where there is increased humidity, corrosive environment (salt), poor water quality and a great need for elegance and discreet appearance.
The thermosyphon system Eurostar MARE reliably covers all the above requirements, offering the ideal solution!!!
With its special design, which does not exceed 1m in height and its completely white color, it is absolutely discreet, in most cases invisible, and does not offend the architectural design of any building. All its parts (container, collectors and base) are completely protected by electrostatic oven paint (uniform white color), so that no part of the product is exposed to the brackish moisture. All screws, nuts, etc. that accompany the base are made of stainless steel (Stainless Steel), thus providing universal protection against corrosion.
Advantages
Use of higher magnesium anode for extra protection against aggressive ("hard") water that we usually encounter on islands.
Upgraded aesthetics that harmonizes with the island architecture mainly area leading to an optimal result.
Extremely low design to meet the limits set by the urban planning of each island.
Use of electrostatically painted support base for greater antioxidant protection over time and greater safety of craftsmen during solar installation.
Electrostatically painted (RAL-9002) back of the solar panel in the same color as the frame, base and container so that the entire solar panel has one color, which leads to upgraded aesthetics and maximum protection against oxidation.
Use of stainless steel (AISI 304-A2) screws and nuts for the assembly of the solar system that completes the maximum protection against oxidation.
EUROSTAR Mare Advantages
CERTIFICATES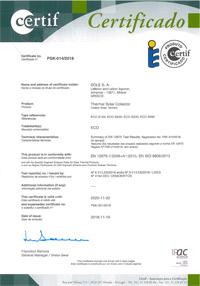 SOLAR KEYMARK ECO COLLECTOR