ALPHA COMPACT SOLAR WATER HEATERS - SOLAR ENERGY SYSTEMS
Solar Energy Systems Greece Europe, ALPHA Compact Solar Water Heater, Solar , Solar Hot Water System
The awarded Alpha compact solar water heaters prevail, because not everything is created equal under the sun.
ALPHA COMPACT SOLAR WATER HEATER
SOLE S.A. Athens manufactured the first solar water heater in Greece in 1974 and is still designing and developing new, cutting edge solar water heaters, solar panels and hot water boilers for tomorrow's market.
The European Commission awarded the scientific design of SOLE's newest integrated solar water heater, the ALPHA.
WHY ARE THE ALPHA SOLAR ENERGY SYSTEMS SO SPECIAL?
Simply because:
Aesthetically it is superior to the conventional thermosyphon solar water heaters by combining the solar collector and tank in one unit. It does not offend the environment, has an inclination adjusting support system allowing for maximum absorption of the sun's rays during four seasons and an adjustable height of 60 cm to 170 cm maximum.
Efficiency is much faster than in the conventional thermosyphon systems of the same capacity due to the integrated boiler and collector in the centre of a mirror aluminium parabolic surface.
Quality is guaranteed as for all Sole products. ABS casing on the exterior. Glass coated steel, oven-treated at 840oC with polyurethane insulation in the interior, plus increased electrolysis protection with magnesium. It will never corrode during its lifetime.
Installation is simple as 1+1. No special skills or training are required, even an individual can install it. Simply place the solar water heater on the roof and connect to the water supply pipe and hot water outlet pipe. It can also be connected with the electricity mains, if desired.
Creativity in application is unlimited. Alpha solar energy systems are ideal for residential and commercial. Villas, houses, apartment buildings, hotels, factories and any other large project, by installing as many as needed, side by side. This will eliminate the need for central boilers, pumps, automation, etc.
Smart Designing standardization of materials and contemporary production methods resulted in the Alpha's very competitive price.
Solar Energy does not pollute the environment - the Alpha Integrated Solar Water Heater does not pollute the environment aesthetically either.
In short, the award winning Alpha integrated solar water heater is an attractive, more efficient, high quality, easy to install, energy saving, smartly designed system, which allows for creativity in its application. All this at a very competitive price.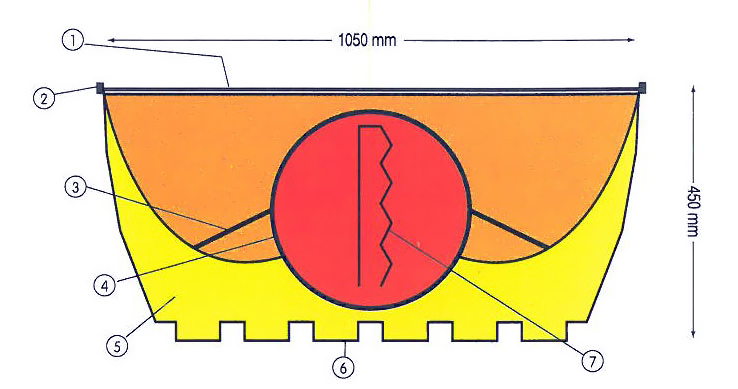 TECHNICAL SPECIFICATIONS
Glazing 4 mm low iron prismatic tempered glass.
Aluminium strip sealed with EPDM rubber.
Fins collecting & transferring energy and parabolic concentrating mirror.
Collector-tank of low carbon steel, glass coated (enamelled) overtreated at 860 oC. Magnesium anode protection.
30-50mm foamed polyurethane insulation.
Casing of HIPS plastic 3 mm with UV stabilizer.
Back Up heating available.
AVAILABLE SIZES OF ALPHA SOLAR ENERGY SYSTEMS: 200 LT
| | |
| --- | --- |
| Dimensions | Alpha III |
| Length | 206 cm |
| Width | 106 cm |
| Thickness | 43 cm |
| Absorption area | 2.2 m2 |
| Nom. Capacity | 200 lt. |
| Packaging | 0.94 m³ |
| Weight | 106 kg |